– by ChiChai@Empire –
I feel like I'm bringing Chris@Empire on a tour of the four elements *Avatar reference*: 
We got Air
Photo taken while flying to Coron, Palawan

Water
Click here to view more from Coron, Palawan
Earth
Click here to view more from Pampanga
And lastly, Fire.
Okay, I'm having too much fun with the Avatar references. But seriously, if the Fire Nation existed, it may have had territory in the Philippines. There are nearly two dozen active volcanoes in the Philippines and all of them are part of the Pacific Ring of Fire. (Read more about the Ring of Fire here.)
We spent our last day in my motherland by making our way to the top of Taal Volcano, the second most active volcano in the Philippines.
Christopher, my mother, our friends Emi and Karen and I left Manila at sunrise to head to Tagaytay. This drive alone is 2-3 hours depending on traffic. Once we reached Tagaytay's shoreline, we road a boat across Taal Lake to reach Taal Volcano Island.
About twenty minutes later, we finally reached Taal Volcano. When traveling to the volcanic island, you have the choice of hiking or horseback riding. We chose the horses. Because, I mean, why not?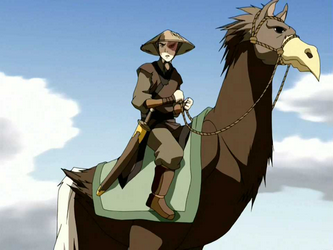 Kidding, kidding. This is us.
My heart-raced as we made our way to the top. For one, my horse kept getting distracted by plants he wanted to eat and continually went off course. My guide even asked the horse lasing ka ba? (Are you drunk?) Secondly, you can sporadically see steam coming out of the island's earth. The steam felt like Taal Volcano's reminder that we're trekking in a potentially disastrous area.
But, once we reached the top, those worries went away. (Or I should say, worry. That horse still needed to chill lol.)
Taal Volano truly is beautiful.
But… It is also confusing. As written by SinoPinas:
Taal Volcano and Lake has one of the most picturesque and attractive views in our country. Inside it is Vulcan Point Island that's within the Main Crater Lake within the Volcano Island within Taal Lake within Luzon within the Philippines within the Pacific Ocean.
In other words, Taal Volcano is within a lake that's within the island of Luzon. And, within Taal Volcano itself, is its own lake… And within that lake is another island. It's a volcani-ception.
Can you see both lakes?

To get an idea of how massive Taal Volcano is, check out a couple of Christopher's aerial photos:
In one week in the Philippines, we travelled in Manila's urban-scape, island-hopped in Coron, ate farm-to-table food at a farm, and trekked up a volcano. I can't wait to share with you what Chris and I did during our ten days in Vietnam!
But, in the meantime, one last Avatar gif for you: